Environmental education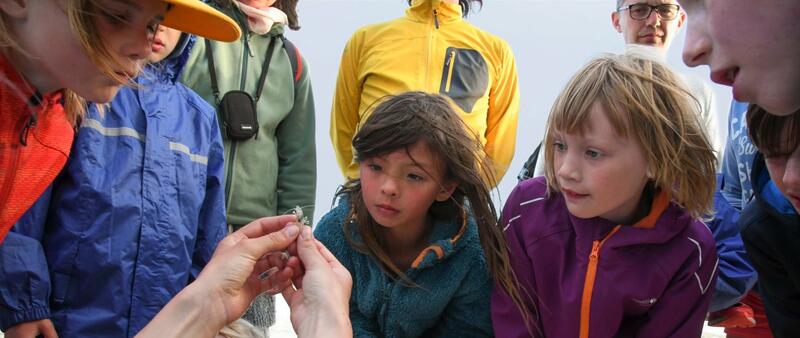 Next to exhibitions and information material, almost all visitor centers in the World Heritage region offer educational activities on the nature and culture of the Wadden Sea. Ranging from exciting excursions and interesting lectures to educational leave and holiday camps, tourists, groups and families find a broad choice of activities.
For classes and teachers the visitor centers provide a broad choice of activities especially tailored to the demands of schools, e.g. programmes for class trips and school outings, material for school projects and worksheets for lessons at home.
---
National programmes and projects
In each Wadden Sea region there are national and regional initiatives and projects such as "Waddenzeeschool" in the Netherlands, educational offers from the three German Wadden Sea National Parks, e.g. "Nationalpark-Schulen", and "Mit Vadehav" in Denmark.
---
International Wadden Sea School
Founded by the Trilateral Wadden Sea Cooperation and nature NGOs in 2003, the International Wadden Sea School (IWSS) aims to raise awareness of the Wadden Sea as ONE shared nature area among multipliers and users of Wadden Sea education. The IWSS brings together environmental educationalists from Denmark, Germany and the Netherlands at annual workshops throughout the Wadden Sea Region. They share their experience and approaches to Wadden Sea education – from visitor centers and guided tours to online learning platforms and school programmes – and jointly develop ideas for translation activities and trilateral resources.
A broad pool of multilingual education and edutainment resources are available, such as posters, discovery booklets, sticker books, and various games focussing on the Wadden Sea as an entity. They offer multipliers the chance to include a transnational perspective in their regional and local education activities.
The IWSS, coordinated by WWF Germany and the CWSS, constitutes the basis for World Heritage Site education and is in charge of the implementation of the trilateral World Heritage Site education programme.
---
Trilateral education strategy
The "Wadden Sea Strategy on Education for Sustainable Development and World Heritage Interpretation" aims to provide a transboundary framework for environmental education and interpretation in the entire Wadden Sea World Heritage Site. It stands for ONE Wadden Sea, builds on local, regional and national strategies, concepts and individual activities – without replacing these – and provides an umbrella to promote the Wadden Sea's Outstanding Universal Value in an international and interdisciplinary approach.